Puppies from Arghishalee Labradors

We only breed when we want a puppy to keep ourselves but can direct you to other litters including occasional litters sired by our health tested stud dog. I presently do not have any bitches of breeding age, therefore, until recently, only keeping entire males, I am currently an Associate Member of the Assured Breeders Scheme. If and when we do decide to breed, we will undergo a KC ABS (ISO) visit.
December 2018: Stunning puppies available from extensively health tested parents
Bruce (Vicford Aladdin Arghishalee (A.I.)) has a stunning litter of black and yellow puppies on the ground out of Snowy (aka Triplecroft Golden Eye). Bruce is a 2nd generation 0/0 hips and elbows, Snowy has 3/6 hips, 0 elbows - they both hold current clear eye certificates.
Both parents have superb temperaments, well socialised and good with children and other animals. These pups are from a very special mating, and most definitely worth viewing
Both parents are prcd-PRA clear meaning the puppies will be hereditarily clear for this condition. Bruce is also genetically clear for CNM, EIC and HNPK, meaning the puppies will never be affected for these conditions
======================================================================================
We are happy to direct people to good breeders of pups in all three colours (where possible), if you do need any help, please contact me at:
---
AVAILABLE AT STUD
We presently have one black dog available at stud - he has a superb temperament, works as a part-time assistance dog to me whilst in my wheelchair, and also a great retriever and showdog. He is producing some stunning black and yellow puppies.
Vicford Aladdin Arghishalee (A.I.)

Bruce is black carrying yellow. He has a lovely intuitive temperament and works with me as I am disabled to assist me when we are out and about on my mobility scooter or wheelchair. Bruce qualified for Crufts 2014 and 2018, when he also secured his Stud Book Number gaining 2nd place in a strong Limit Dog class at East Anglia Retriever Club under breed specialist Margaret Coddington (Genisval). Bruce is a second generation 0/0 hips and elbows (sired by the Internationally known Int CH Carpenny Scenario). He holds a current clear eye certificate and is DNA clear for prcd-PRA by parentage. He is also DNA Clear for CNM, EIC and HNPK, and is producing beautiful black and yellow puppy - pictures below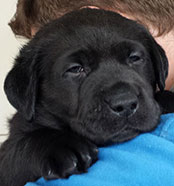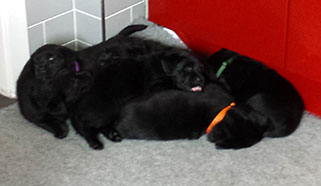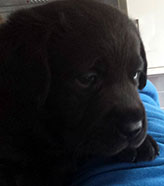 Whistletyne Strictly Tango Arghishalee: (29 Sept 2010 to July 2019)
A true gent, amongst Labradors, our beautiful boy was taken to the bridge long before his time leaving yet another large hole in our lives. He also left us and others his children and grandchildren to remember him by - thanks to Stourmere Gundogs, we are priveleged to own his adorable son DJ, and also own his Grand-daughter Missie, sired by our own Bruce, bred by Rossacre Labradors. In 2014, Dylan gained his KC stud book number at the National Dog Show by getting third place in Limit dog in strong competition. qualifying him for Crufts for life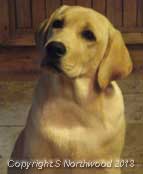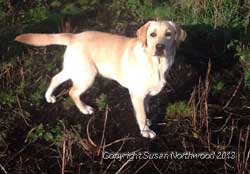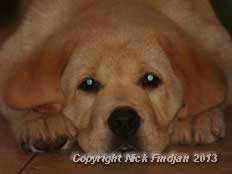 ---
Previous litters

September 2009:

,

Balrion Weathertop John Barleycorn x Arghishalee Hope N Ambition
---
October 2008
Holmajor Flame x Arlma Girl of Arghishalee
Gus


Maisie with her new 'big bro'


Holly


Oscar


Barney


July 2007
Gowanvale Run-A-Round x Arlma Girl of Arghishalee

Carys at 11 months


Hope at 14 months


Barney (the puppy)


Barney (at 1 year)


Hope


Bailey


Libby